Václav Peloušek & Bernhard Rasinger: Build your own handheld digital oscilloscope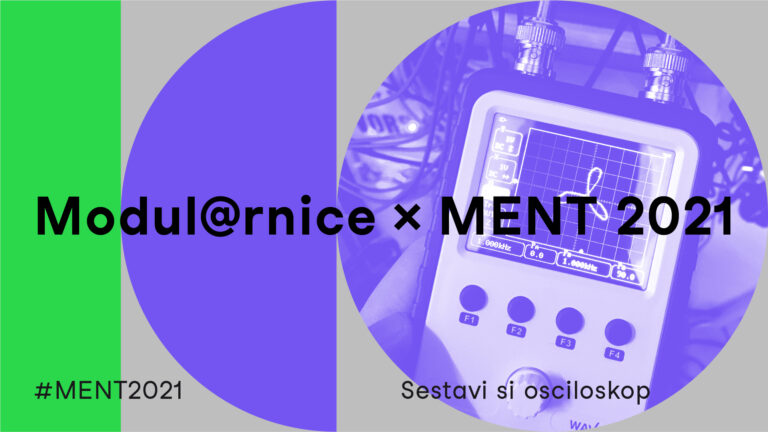 In this workshop, you'll build your own digital 2-channel oscilloscope WAVE2, which fits in the palm of your hand. It features two input channels and two auxiliary function generator outputs. It's a fun little device that can be used to look at waveforms and do electronic measurements.
Bernhard and Vaclav will guide you through the soldering process and explain the basic functionality of this awesome tool. However, there's an evil twist—we're going to hack the oscilloscope kit so that you'll be able to fit it into your Eurorack modular synthesizer.
The oscilloscope will be powered from the synth's power rail and you'll receive Eurorack compatible 3.5mm jacks to seamlessly integrate it into your modular synthesis workflow.
The workshop will also focus on the explanation of waveforms in XY and the process of drawing shapes on the oscilloscope. Before you know it, you'll enter an ancient cult of vector worshiping!
***
HOW TO APPLY: Bring your modular synth (if you have one) or electronic sound devices to make epic shapes, and also a USB power source, like a phone charger, to power the device. The price of the oscilloscope kit is 50 € – all participants will receive an email regarding the payment process. The number of participants is limited; you can apply at delavnice@projekt-atol.si.
2 free applications: If you can't afford the materials, but you've always been interested in the topic, you're still kindly invited to attend the workshop. In this case, the final product won't be yours, but two devices from the workshop will always be available to our community as part of our synth library at osmo/za.
More:
http://www.projekt-atol.si/en/workshop/build-your-own-handheld-digital-oscillos…
With:
Václav Peloušek
Václav Peloušek is a musician and inventor from Brno, Czech Republic. For the past decade he has been building his own instruments and also co-started brand Bastl Instruments which released countless products and held many workshops world-wide. Peloušek studied Art & Science at University of Applied Arts in Vienna and performs his music as Toyota Vangelis.
Bernhard Rasinger
Bernhard Rasinger is an engineer, visual and sound artist and co-founder of the art association New Jörg Vienna. He's a regular guest at international experimental music festivals, music fairs and soldering workshops. His past performances include Ars Electonica in Linz, Superbooth in Berlin, Modular Days Barcelona, Machines in Music in New York, Kontaktor in Riga and Gigamodular Tokyo. Since 2013, Bernhard Rasinger has performed on a system that combines a modular synthesizer and state-of-the-art laser technology to create a lucidly hypnotic audiovisual experience (BR-Laser, Tearing light from sound, LaserBros., LaserMedusa). The list of his collaborations includes names like Owen Armour, Richard Devine, Vaclav Pelousek, Anna Samsoe, Robert Henke, Anna Sircova, Hrtl, Kikkimore Collective, Denshikaimen and Lukas König.