Rosišče 💦 Oliver Torr & gabi98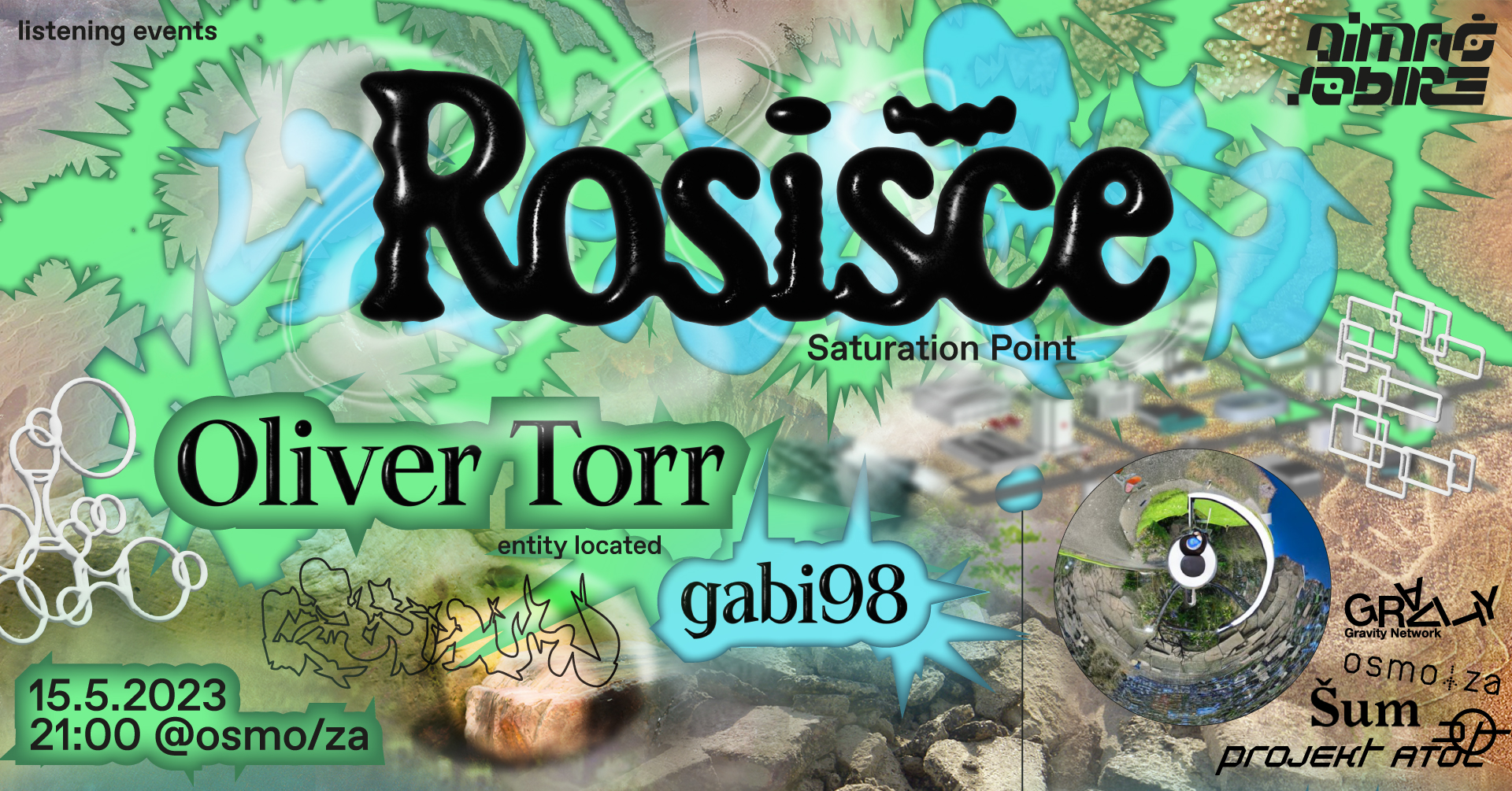 Welcome to Rosišče, the point of maximum saturation, when the tension in the air is finally released and softly settles on the floor in the form of synthetic droplets. The Nimaš Izbire collective and Projekt Atol Institute in collab with Šum present a series of intimate evenings dedicated to calmer and exploratory sounds of electronic music, which will condense into four live sessions at osmo/za in Ljubljana.

The first Rosišče hosts – for the first time in Slovenia – Oliver Torr, a Czech composer, sound designer, and sound artist currently residing in Athens. A protégé of the Shape platform and a member of the team at the cult synthesizer company Bastl Instruments, among others, he blends experimental sound design with avant-garde pop influences in his latest releases, while always serving a refreshing inflow of improvisation with his live acts.

Gabi98, founder and coordinator of the Nimaš Izbire collective, will take care of just the right temperature for a cozy dewy atmosphere, providing an ethereal non-club dj set before and after the live act.

˗ˏˋ Oliver Torr
soundcloud.com/user-221041418
instagram.com/oliver_torr/
˗ˏˋ gabi98
soundcloud.com/gab198
instagram.com/gabriele_steffe/

FREE ENTRY
Voluntary contributions will be much appreciated :3
Music Policy: ambient pop, sound design, electronica, listening music, ambiental

Cover by Dorijan Šiško & Liara T'soni
Condensed by Nimaš Izbire: instagram.com/nimas_izbire
INFO/Contact: nimas.izbire@gmail.com

Production: Projekt Atol Institute and Nimaš Izbire, in collaboration with Šum.

Thanks to Gravity Network for supporting this event! @gravitynetworkeu supports peripheral electronic music culture communities by developing scenes along with young talent and up-and-coming artists.

Rosišče series are supported by the Ministry of Culture of Republic of Slovenia.
*
Event series is part of Klima project.