Rosi Grillmair | Code Poetry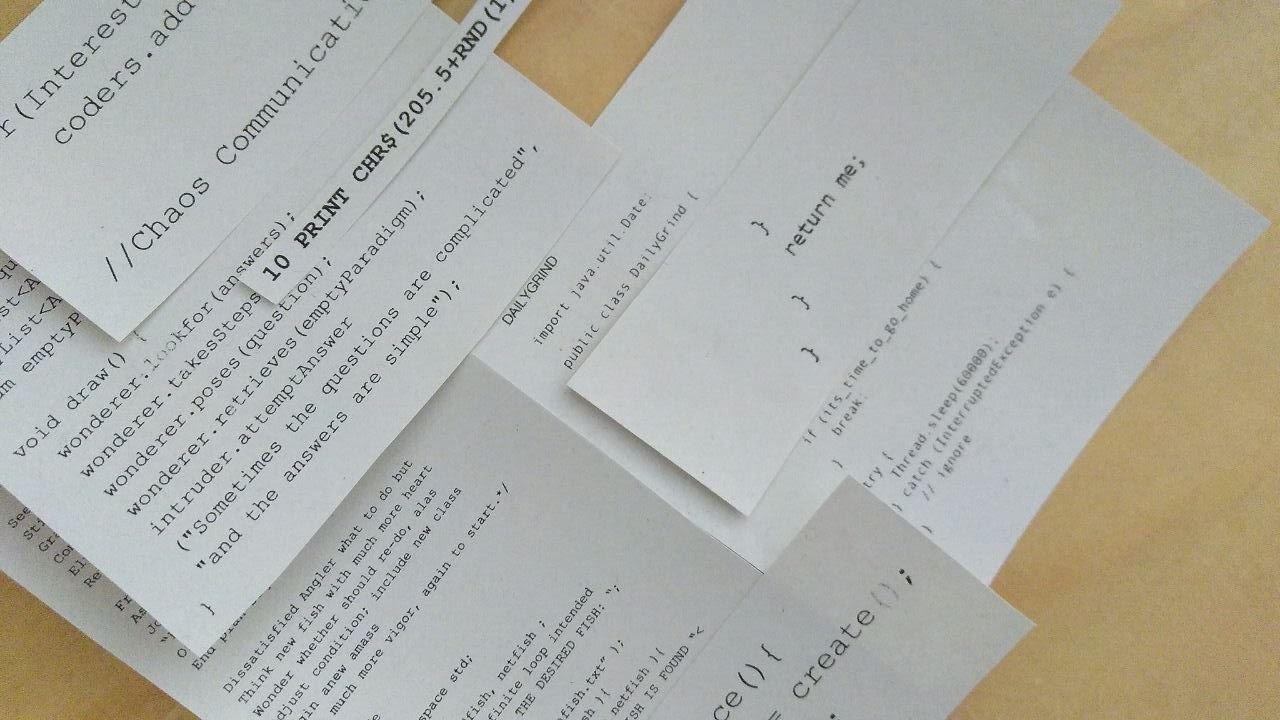 𝙰𝚛𝚝 𝚌𝚛𝚎𝚊𝚝𝚎𝙱𝚎𝚜𝚝𝙿𝚒𝚎𝚌𝚎(){
𝙰𝚛𝚝 𝚖𝚊𝚜𝚝𝚎𝚛𝚙𝚒𝚎𝚌𝚎 = 𝚌𝚛𝚎𝚊𝚝𝚎();
𝚛𝚎𝚝𝚞𝚛𝚗 𝚖𝚊𝚜𝚝𝚎𝚛𝚙𝚒𝚎𝚌𝚎;
}
/𝚁𝚘𝚜𝚒 𝙶𝚛𝚒𝚕𝚕𝚖𝚊𝚒𝚛
Code is a form of written expression like poetry is. There is an intention behind every line of code.
It functions on the intersection of human and machine interaction. It has to be executed by a machine but is also meant to be read by another human. A specific task can be written in different languages and in different ways. Code is thus always a subjective form of communication, saturated with the personality and style of its writer.
At the workshop, we will compare lines of code with poetry, get familiar with the "Code Poetry" genre, try to interpret it and write our own code poems.
This workshop is open for people who never wrote a line of code as well as for programmers who want to experiment with the language they are using on an every-day basis!
𝚏𝚘𝚛(𝙸𝚗𝚝𝚎𝚛𝚎𝚜𝚝 𝚒 : 𝚊𝚕𝚕𝙸𝚗𝚝𝚎𝚛𝚎𝚜𝚝𝚜)
𝚌𝚘𝚍𝚎𝚛𝚜.𝚊𝚍𝚍(𝚗𝚎𝚠 𝙲𝚘𝚍𝚎𝚛(𝚒));
/𝙲𝚑𝚊𝚘𝚜 𝙲𝚘𝚖𝚖𝚞𝚗𝚒𝚌𝚊𝚝𝚒𝚘𝚗 𝙲𝚘𝚗𝚐𝚛𝚎𝚜𝚜
/𝚋𝚎𝚛𝚒: "𝙸𝚗 𝚘𝚛𝚍𝚎𝚛 𝚝𝚘 𝚞𝚜𝚎 𝚝𝚎𝚌𝚑𝚗𝚘𝚕𝚘𝚐𝚢 𝚏𝚘𝚛 𝚍𝚒𝚏𝚏𝚎𝚛𝚎𝚗𝚝 𝚗𝚎𝚎𝚍𝚜 𝚊𝚗𝚍 𝚒𝚗𝚝𝚎𝚛𝚎𝚜𝚝𝚜, 𝚠𝚎 𝚗𝚎𝚎𝚍 𝚍𝚒𝚏𝚏𝚎𝚛𝚎𝚗𝚝 𝚙𝚎𝚘𝚙𝚕𝚎."
₌₌₌More ₌₌₌
> https://bit.ly/39LFZZ8 (Grillmair, Rosi. (2019). Code and Poetry An Exploration of Logic throughout Art, Computation and Philosophy.)
> wiki.ljudmila.org/Code_Poetry
₌₌₌Application₌₌₌
The workshop will be held online and in English. 𝗧𝗵𝗲 𝗻𝘂𝗺𝗯𝗲𝗿 𝗼𝗳 𝗽𝗮𝗿𝘁𝗶𝗰𝗶𝗽𝗮𝗻𝘁𝘀 𝗶𝘀 𝗹𝗶𝗺𝗶𝘁𝗲𝗱, 𝘀𝗼 𝗽𝗹𝗲𝗮𝘀𝗲 𝗮𝗽𝗽𝗹𝘆 𝗮𝘁 delavnica@ljudmila.org. 𝗣𝗮𝗿𝘁𝗶𝗰𝗶𝗽𝗮𝘁𝗶𝗼𝗻 𝗶𝘀 𝗳𝗿𝗲𝗲 𝗼𝗳 𝗰𝗵𝗮𝗿𝗴𝗲.
₌₌₌Production₌₌₌
Ljudmila, Art and Science Laboratory, and Projekt Atol Institute.
The residency and the workshop are made possible with support from the Ministry of Culture, Municipality of Ljubljana – Department for Culture, and JSKD – Public Fund for Cultural Activities. The project is part of EASTN-DC Network, which is co-funded by the Creative Europe programme of the European Union.
With:
Rosi Grillmair
Rosi Grillmair (*1991) is an artist, programmer and a lecturer on art, culture and technology in her hometown Linz, Austria. Grillmair has exhibited her works at international art festivals and exhibitions. She is a speaker on topics like AI and art, maker culture and creative coding and is part of several open-source communities.