What's Your Truth: Tipping Point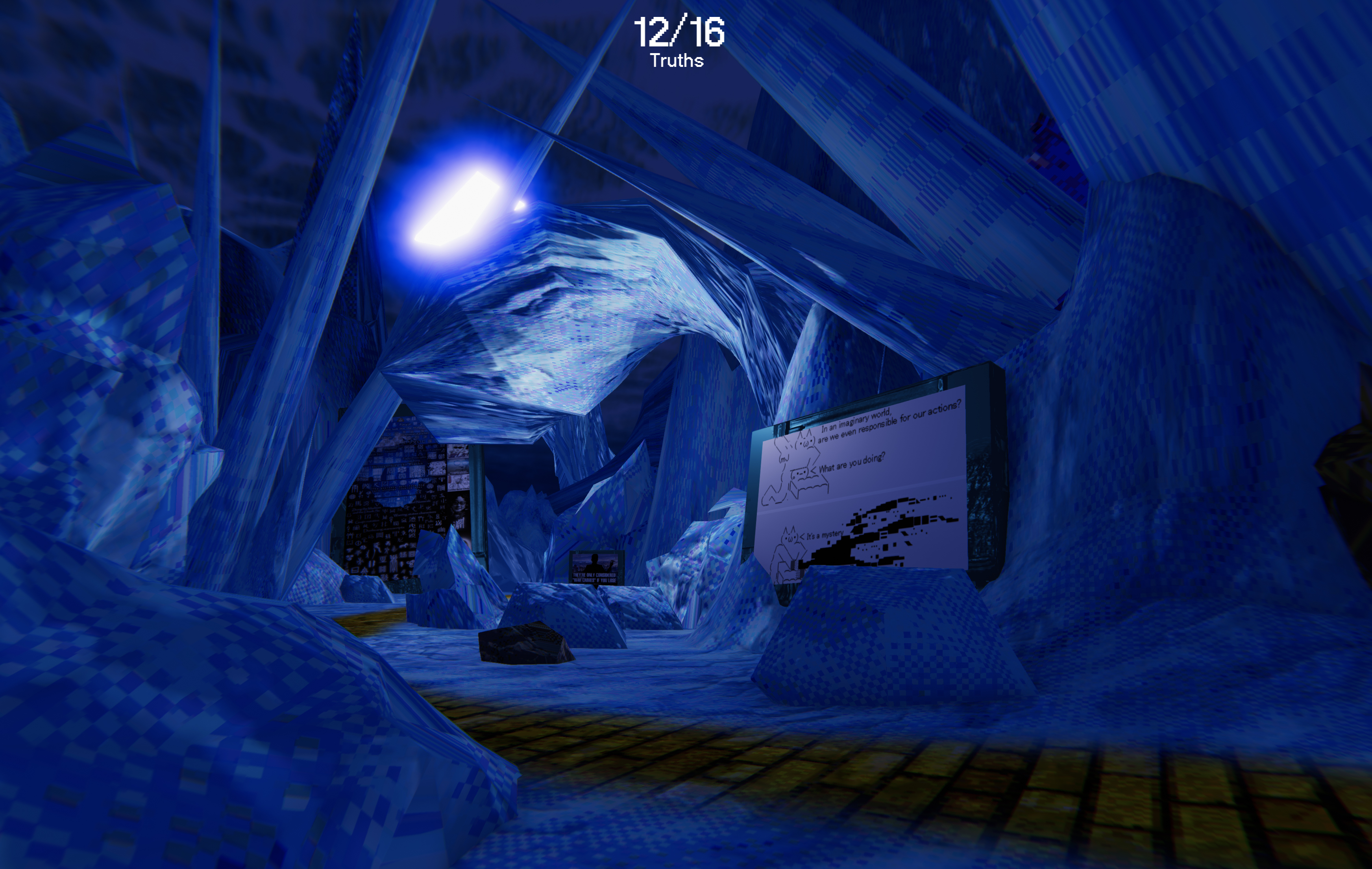 The exhibition What's Your Truth: Tipping Point is a continuation of a long-term project by Sara Bezovšek and Dorijan Šiško in which the artists explore the ideas of contemporary postinternet society and the logic of video games.
The project What's Your Truth (WYT) questions the practical effects of postmodern relativism while flirting with the consequences of the fragmentation of social consensus and the proliferation of "truths" that characterise society and politics in the age of the internet, algorithmic profiling and social media. In a new chapter entitled Tipping Point, the WYT gaming experience is updated with elements that respond to current socio-political situations, and the space of the video game spills over into the space of the exhibition. The gallery and its "reality" are just another (non-privileged) piece of the iceberg, one part of this world of "many truths" in which everyone chooses/reveals their own. The informational-ideological path of this gaming mission and at the same time personality test leads to several possible conclusions - different mutually exclusive truths - which the player with his/her choices not only determines but also co-shapes, reinforces and further disseminates. 
Opening and guided tour with the artists: Wednesday, 5 October at 19:30
The exhibition will be on view Mon–Fri:
6–16 October, 16:00–20:00
17 October, 12:00–16:00
__
Programming assistance and sound design: Srđan Prodanović
Curation: Tjaša Pogačar
Production: Projekt Atol Institute
Support: Association for Contemporary Art X-OP and KID KIBLA
Special thanks: JP VOKA SNAGA
The project is supported by the Ministry of Culture and the Municipality of Ljubljana– Department of Culture. 
With:
Ime

Sara Bezovšek je vizualna umetnica, ki deluje na področjih grafičnega oblikovanja, fotografije in novih medijev. Za njeno umetniško prakso je značilno raziskovanje, zbiranje ter shranjevanje vizualnih referenc iz popularne kulture z raznih spletnih platform, filmov in televizijskih serij. Najden digitalni material v tehniki izreži/kopiraj in prilepi združuje v kolaže ter mashup videje in tako skozi apropriacijo ustvarja nove narative. Pri tem jo zanima, kaj ljudje gledajo in delijo na socialnih omrežjih, kako vizualni material potuje po internetu ter kako se spreminja in vpliva na uporabnike. Magistrirala je iz vizualnih komunikacij, smer Grafično oblikovanje, na Akademiji za likovno umetnost in oblikovanje v Ljubljani. Leta 2018 je med drugim imela samostojno razstavo z naslovom (◉_◉)v projektnem prostoru Aksioma ter prejela študentsko Prešernovo nagrado za mobilno aplikacijo ZNAM. Leta 2019 je svoje delo predstavila tudi na samostojni razstavi Computering v galeriji Kamera v sklopu dogodkov ob deseti obletnici delovanja Kina Šiška.
Ime

Dorijan Šiško je grafični oblikovalec, raziskuje pa tudi druga področja vizualne; sodobne umetnosti kot so ilustracijo, animacijo, instalacijsko, multimedijsko umetnost in VJanje. Njegovi primarni interesi v oblikovanju se ukvarjajo s spekulativnimi, kritičnimi, experimentalnimi, transmedijskimi aspekti oblikovanja. Skozi ustvarjanje vizualno teoretskih svetov svojih delih raziskuje teme, kot so digitalna kultura, internet, futurizem, virtualnost, video igre, znanstvena fantastika in popularna kultura. Bil je likovni urednik družbenokritičnega študentskega časopisa Tribuna, za čigar oblikovanje je prejel Brumnovo nagrado. Je soustanovitelj kulturno-umetniškega društva Kombajn in eden od ustanoviteljev umetniško-oblikovalskega kolektiva freštreš, s katerim redno izdaja maga/zin freštreš in postavlja razstave v Sloveniji ter tujini. Razstavljal je v institucijah kot so KUD Kibli, Kino Šiška, Slovenskem narodnem muzeju, Moderni galeriji, MGLC, GT22, Jakopičevi galeriji in Out to See Festival; New York.

www.dorijansisko.com